About Staffin Community Trust
Staffin Community Trust ~ Urras an Taobh Sear was established in 1994 by local people determined to tackle the challenges faced by our rural district, in the Isle of Skye, in the Scottish Highlands. which has crofting and Gaelic at its heart.
SCT works with, and for our community, which has crofting and Gaelic at its heart. SCT is a charity and its project work is supported by Highlands and Islands Enterprise's Community Capacity Building Programme.
Our Objective
Staffin Community Trust has delivered a range of projects in north-east Skye for three decades.
Our community is classed as economically fragile by the Scottish Government. A lack of permanent all-year round employment/affordable housing, an ageing and falling population and the loss of our young people in search of work elsewhere, are just some of the major challenges.
SCT has a small workforce and is governed by a board of volunteer directors drawn from the community. Staffin was the only community in Skye and Lochalsh to suffer a population fall in the 1991 Census and members of the local community council led moves to establish a development trust to try and reverse this decline.
To date, SCT's work have resulted in a direct spend of £3.1 million in Staffin with major capital work projects delivered.
The SCT's objective is to improve Staffin's economic prospects, stimulate social and cultural activities and improve services, with the Gaelic language an integral part of that. SCT is also trying to develop as an organisation which can sustain itself through income-generating developments.
SCT strives to work closely with other key organisations in the district including Staffin Community Council, the Staffin Community Hall Association, Columba 1400, Sgoil Stafainn and of course local businesses.
SCT's largest projects have included the original £350,000 development of Staffin Slipway in 2000 with the construction of a new pier and breakwater and the delivery of two phases of the Skye Ecomuseum project between 2006 – 2020, including new footpaths, car parking, a viewing platform, interpretation and extensive activities programme. It is currently building a £1.6million housing, health and business development.
Our Projects
Taighean a' Chaiseil
Construction of a long-awaited affordable housing, health and business development got underway in 2020.
Six three-bedroom houses, a new health centre and two business premises will be built on croftland previously owned by the Scottish Ministers and tenanted by Stenscholl Township, close to Sgoil Stafainn.
Staffin Harbour
The need for significant improvements at the Staffin Harbour has been highlighted by the local community for several years as a key priority.
At present, there is no secure boat storage, a lack of shelter to protect vessels coming in and out of the pier, with limited opportunities for berthing and no basic amenities such as a water, fuel or power supply.
Board & Staff
Director and Treasurer

Angus, a crofter and retired secondary/primary school teacher, was one of the founding members of SCT in the 1990s. Angus, who lives in Ellishadder, said he wanted SCT to help Staffin build on its strengths and take the lead in economic improvements for the community. He has the challenging job of monitoring the SCT's financial incomings and outgoings, which is no easy task given the scale of some of its projects.

Director

Ian is from Digg and after leaving school he spent four years in the fishing industry, followed by 20 years in the North Sea. Ian now runs his own business, mostly in construction and agricultural industry services. He has a keen interest in local history, traditional Gaelic, music and language. A crofter and keen sheepdog competitor Ian has helped run the hugely successful Staffin Sheepdog Trials at Ellishadder backed by a small army of helpers. The annual event has not only drawn in extra visitors to Staffin but has raised thousands of pounds for a local cancer charity over the years.

Director

Dugald, who lives in Ellishadder, first established the Staffin Museum in 1976 when he was only 19-years-old. He has a rich source of knowledge about the Trotternish peninsula's history, archaeology, landscape and geology. Since Skye's first dinosaur find in 1982, Dugald has been involved with local research that continues to identify dinosaur remains. In 2002, the discovery of Middle Jurassic tracks which showed the footprints of an adult dinosaur with young has attracted international interest. Dugald's museum has gone from strength to strength and attracts thousands of people a year. Dugald played a leading role in the creation of the Skye Ecomuseum and is a key member of the group tasked with the current project.

Secretary

Sìne has connections with Lewis and Islay but has lived in Skye since 1985. Through her work with Lasair (Iomairt an Eilein Sgitheanaich) she delivers Gaelic-medium activities to young Skye people. Examples are The John Muir Award and the musical tuition project, Èist. Along with others she has been instrumental in shaping Druim nan Linntean | Skye Ecomuseum. Sìne is keenly aware of the tremendous growth in recent years of visitors to north Skye. She is firmly behind efforts to deliver a warm welcome, good food, comfort and accommodation along with generous spirited interaction and interpretation, so that people who take the trouble to visit may have a meaningful experience in the landscape and community of Staffin. She is keen to address the shortcomings in car parking and toilet provision at landmark visitor sites.

Director

Calum was raised in Stenscholl and attended the old Staffin Primary School and Portree High School as a youngster. He later moved to London and served as a police officer in the Metropolitan Police for eight years. He returned home to Staffin in 2009 and now lives in Digg, where he owns self-catering accommodation and helps his father on the family croft in Stenscholl. Calum restored one of the oldest dwellings in Staffin, The Old Inn, near his family home several years ago. He joined SCT because he has a particular interest in the Slipway redevelopment, having been brought up a short distance away

Director

Martin lives in Ellishadder with wife Andrea. Martin established a chimney sweep business in Staffin seven years ago and is busy across the island and Lochalsh. He also runs a consultancy business focusing on human rights compliant Rule of Law structures in conflict zones and fragile environments. The family had moved to Staffin after Martin retired as a prison governor. He had worked in 10 prisons across England over 26 years. Born and brought up in London his family originally came from Banffshire. Martin is interested in all aspects of the Staffin community and its history. He is currently trying to lean Gaelic and working on his croft as well. He previously served on the SCT board between 2016 and 2018.


Development Officer

Hugh is the SCT local development officer. The post is funded by Highlands and Islands Enterprise through its Community Capacity Building Programme. Hugh, who is from Garafad, works for SCT on most of its major projects and is in close contact with the directors, local residents and other key Staffin organisations/businesses, plus the public and private sector.


Ecomuseum Programme Manager

Angus Murray is the programme manager for the Skye Ecomuseum project. Angus hails from Benbecula, manages a comprehensive activities programme for the project. It includes a new educational pack for primary schools, children's craft and storytelling events, health walks and yoga for older residents, archaeology/wildlife events/workshops, local history, business forum, guided walks and tours, etc. He has also managed the ecomuseum's re-branding and marketing and the design and delivery of the project's digital and physical interpretation.
Support Us
Urras an Taobh Sear – Staffin Community Trust was set up to represent everybody who lives within the community of Staffin and to develop projects which are beneficial to the social and economic welfare of the district.
At present SCT is delighted to have more than 100 people now registered as members and would like to grow that as much as we can. SCT would like to have as many Staffin people, or those with strong links to the district, join as members as possible – and it is very straightforward.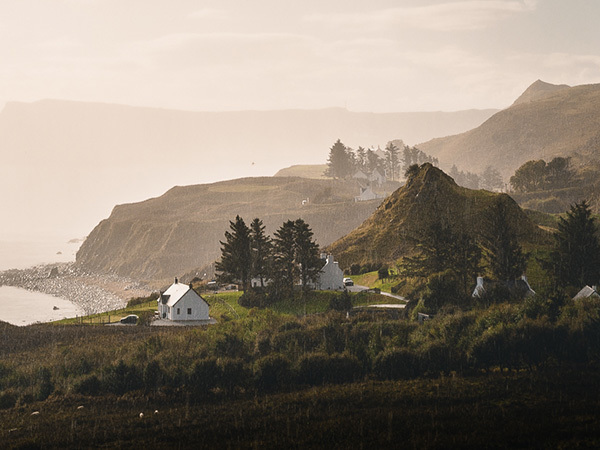 Instagram Feed
@druimnanlinntean
Our Partners