STAFFIN fishermen were among those to meet the UK Government Minister Iain Stewart MP during his recent visit to the Taobh Sear.
Father and son Donnie and Ally MacDonald, of The Chieftain, discussed the current limitations of Staffin Harbour with Mr Stewart, who is the Parliamentary Under Secretary of State for Scotland, and how it affects their livelihood day-to-day.

The MacDonalds have to ensure they can take fuel and water supplies with them to the harbour each day and highlighted the lack of secure boat storage and proper mooring facilities and the fact the current slipway is tidal dependent.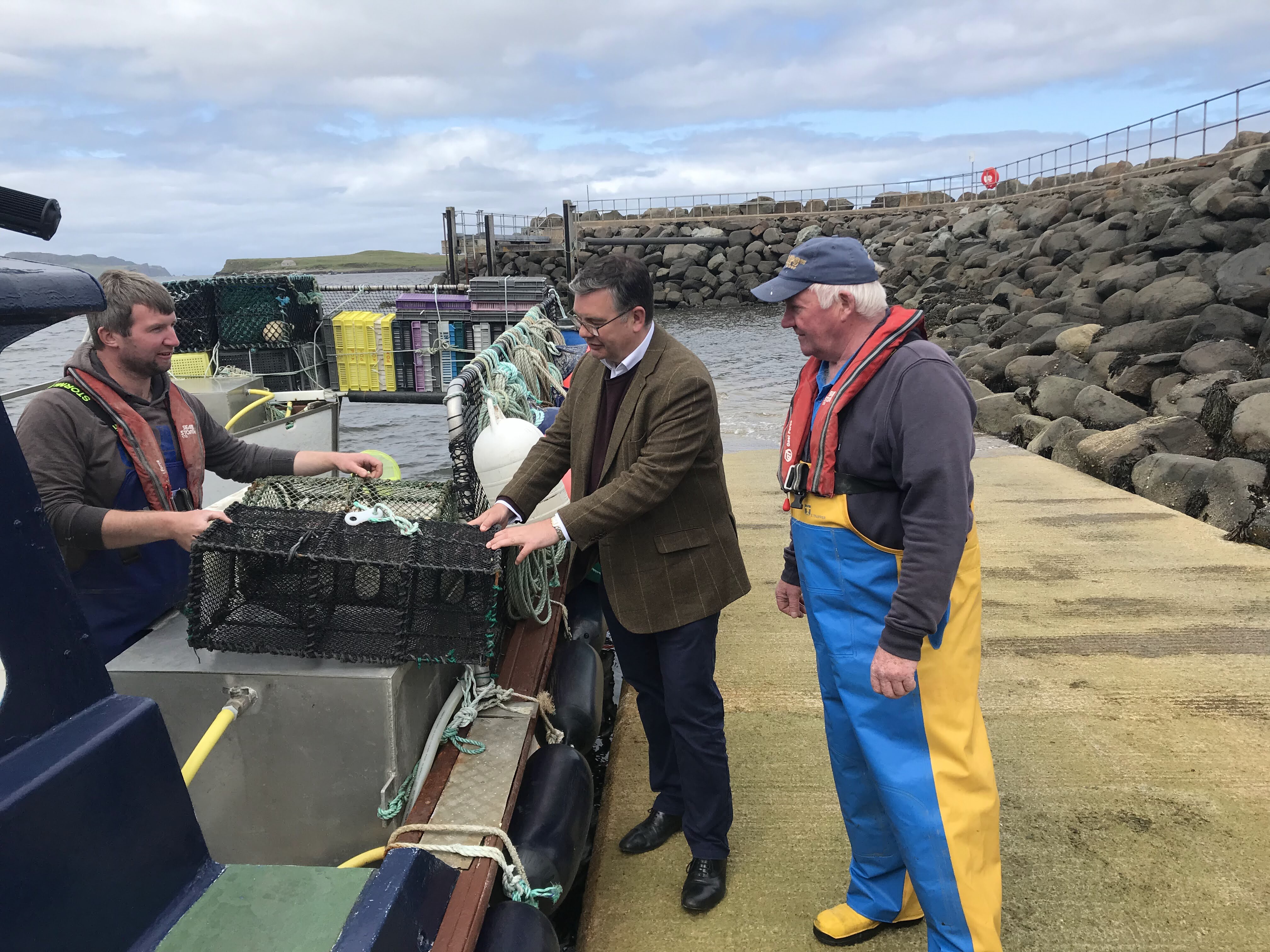 If the long-awaited community-led harbour development can be completed then there would be significant benefits for the Chieftain with regards to the care of the catch and getting The Chieftain's prawn haul to market.

Mr Stewart, who was on a tour of Skye and the Western Isles, also met members of the Staffin Harbour Steering group including Lachie Gillies, Charlie Elder, Donald MacDonald, Ally Young, Calum MacDonald and project manager Malcolm Henry. The group highlighted how the local community are frustrated by the current basic and inadequate facilities at the local authority-owned harbour and want to see the amenities vastly improved.
The harbour development, led by Staffin Community Trust (SCT) will represent tremendous value for the public purse and be transformational in helping to create jobs, whilst supporting key industries including fishing, aquaculture and marine tourism.

The project will involve the construction of a new breakwater and harbour with significantly improved berthing amenities and increased shelter for a range of vessels including fishing and aquaculture boats and pleasure/tourism crafts. It will also deliver:

Improved depth of water for vessels to increase usage, particularly for yachts
Fuel, water and electricity supply
Seven new commercial units to support existing and start-up businesses
Pontoons, showers, toilets, a harbour manager's office, secure boat storage and parking
Mr Stewart also inspected the site plans with the onshore designer Jock Gordon and met Alex MacInnes, Euan McArthur and Robaidh Halliday of local aquaculture company Organic Sea Harvest. OSH currently employs 18 staff who use the harbour on a daily basis to access their salmon farms but also face significant logistical challenges.
The MP, who is originally from Lanarkshire, also discussed the project with Alastair Nicolson, HIE's Area Manager for Lochaber, Skye and Wester Ross; Skye Highland councillors John Finlayson, Calum Munro and Ruraidh Stewart and SGRPID estate factor Ewen MacPherson and clerk of works Peter MacDonald.

Mr Stewart said he fully recognised the unique challenges that Staffin, like other island communities faced, including infrastructure, transport and depopulation, and they must be tackled for rural areas to 'truly thrive'
He discussed the project funding challenges faced by SCT at a meeting, chaired by Donald MacDonald, in the Church of Scotland after the harbour visit.
SCT has secured more than £2million from various Scottish Government funds to progress the development, with the access road upgrade completed earlier this year, and the electrical and water connections' work progressing.
The project is estimated to cost more than £4m and SCT is actively investigating other funds at present so the development can be completed as soon as possible.